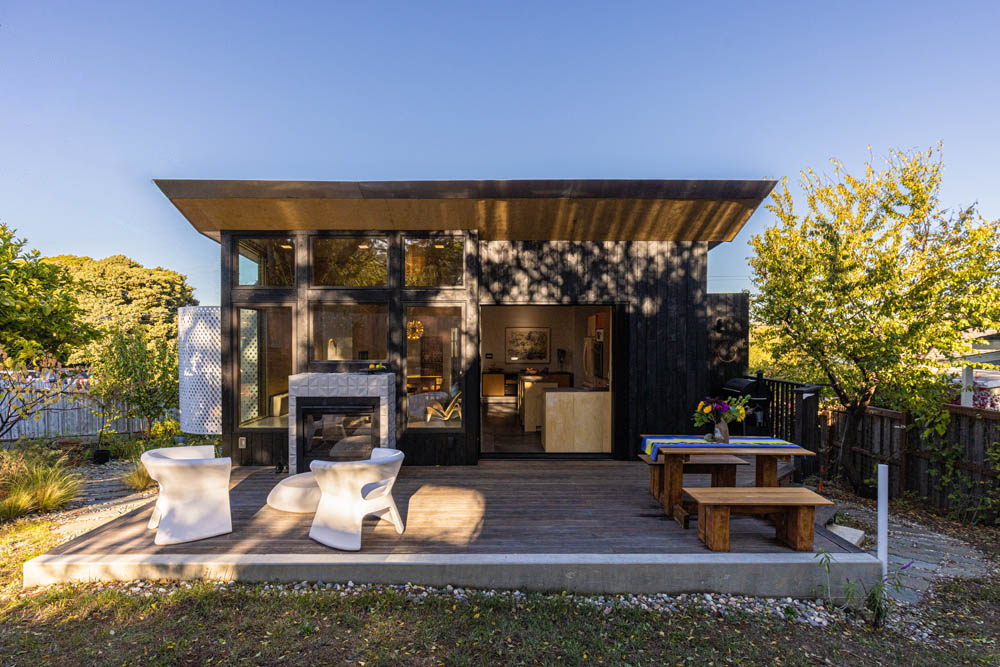 The original structure, which  dated from 1906 was originally sited on land closer to the water. When the Army came in during World War II and consumed the neighborhood for the Marinship Shipyards, the home was moved to its current location – a corner lot in a quaint neighborhood in Sausalito, with easy access to the city just across the famed Golden Gate Bridge.
Originally just 875 square feet,  all of the living space was on one floor that sat above a single-car garage and an unused crawl space.
Throughout all phases of the renovation, exterior changes and alterations were made to the home. The roof was replaced with a more durable standing seam metal, and all foundations (except the garage) were updated to modern, code-compliant, seismically-appropriate supports. The exterior has been painted white, a new fence (also white) has replaced the rickety old one, and the porch has been 100% reconstructed, purposely retaining the original look. 
To this end the home sharply contrasts old and new in its color scheme of white and black. From the street, passersby notice the old, restored structure beaming in white clapboard, and the new, modern structure glowing from behind the dark exterior. Metaphorically, the two buildings look as though they are locked together in conversation. 
Keeping the original house expressed as a restoration in the front was a conscious choice, knowing that renovation would bring about a huge change in the back. The old 'shed'-style addition was completely removed, and a new modern structure was built and married to the older home. The new addition has a roof that slopes slightly upward towards the southwest-facing backyard to expand the view and capture as much sun as possible through a wall of glass. 
On the lower level, DNM excavated the entire non-garage area under the home and added 400 square feet of livable space built out as a guest room and full bathroom. For the privacy of both homeowner and guests, the new space has its own front entry and no internal stairs. It is equipped to have a small kitchenette installed.