Accessory Dwelling Units or ADUs may seem like a very new and different type of housing, but the term ADU actually refers only to the home's legal status, not its physical characteristics. Small houses and apartments, whether called Granny units, In-law suites, cottages, Tiny Homes or just studios, have existed as long as there have been houses and apartments. In California, what sets an ADU apart from other types of dwellings is:
It is built on the same property as a "primary" dwelling (which could be a number of dwellings in a multifamily building), and

It is deed restricted to being long term rental property (i.e. it can never be sold separately or offered on

AirBnb

for less than 30 day periods)

What makes ADUs so attractive to homeowners and other building owners is that they can be built on lots that normally do not allow additional dwellings, such as in neighborhoods zoned for single family homes only. Additionally, the ADU is exempt from size restrictions which may exist for other construction on the property. For example, if a 3000 sf house exists on a lot that the local zoning code limits to 3000 sf, an 800 sf ADU can still be built because it is exempt from that limitation. An ADU may also be constructed within 4 feet of any property line, whereas normal setbacks are usually much greater. An ADU can be a new detached structure, and addition to an existing house or converted from existing space inside the house.
In exchange for these privileges the ADU must comply with some specific size and height restrictions. A studio or one-bedroom ADU is limited to 850sf. An ADU with 2 or more bedrooms can be the greater of 1000 sf or 50% of the primary dwelling unit's floor area. The height is generally limited to 16' although there are circumstances when it can be up to 18-25'.
A significant advantage of ADUs is that they must be approved "ministerially" if they meet all of the design criteria in the State law. This means that they are not subject to design review by a Planning Commission and can only be evaluated by planning staff using "objective criteria." If they meet the criteria for size, location and other conditions, a complete permit application must be processed within 30 days (60 days for larger multi-ADU projects). It's important to note that an ADU, like any construction project, must comply with all applicable building, fire and other codes. The only exception to this is that fire sprinklers cannot be required in an ADU unless they are also required in the primary dwelling (and there are some exceptions in high fire hazard areas).
Each jurisdiction, whether city or county, adopts its own set of regulations to permit ADUs (links to a few of them are below), but they must all meet the minimum standards imposed by California State law Section 65852.2, recently amended by Senate Bill SB 897.
With an estimated shortage of almost 1 Million homes in California and almost 4 Million across the US, ADUs are just one tool to help combat the country's chronic lack of affordable housing. It may seem trivial to add one unit in a backyard or convert a basement to an apartment, but, in contrast to large apartment buildings or expanded suburbs, ADUs provide a "surgical" path to new housing using existing land, sewers, water and other infrastructure. They may be the greenest and most sustainable housing strategy available. 
Below are links to just a few ADU programs in California: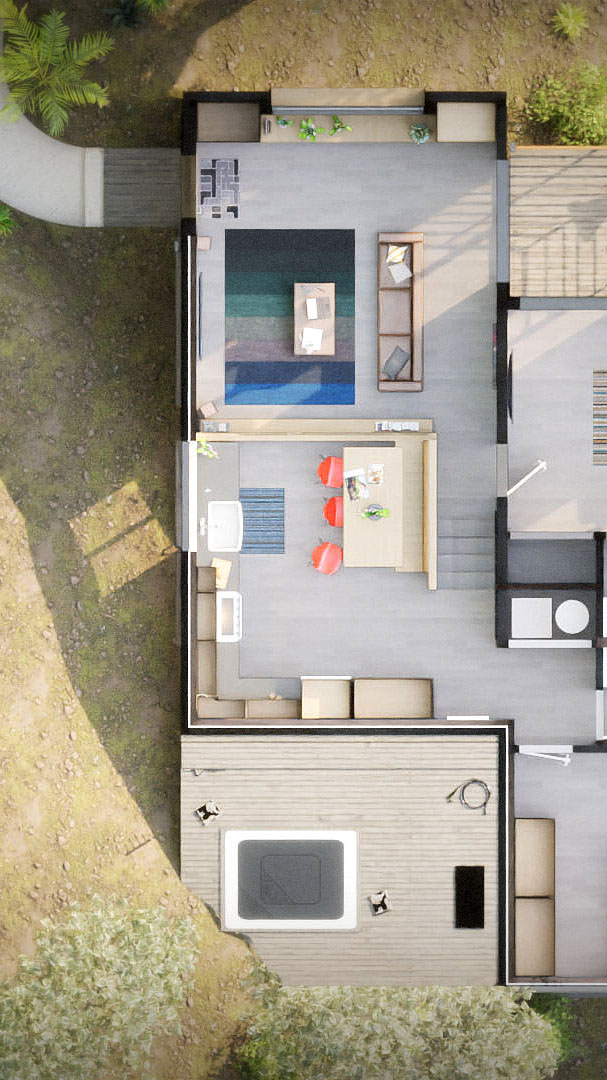 By helping homeowners and building owners add ADUs to their properties, DNM Architecture is contributing to alleviating California's housing crisis. Our experience includes design and permitting of detached ADUs, attached ADUs, and Interior ADUs. This 1000sf detached ADU on an upsloping lot in Sausalito, CA, currently under construction, is one example of a modern, efficient and affordable 2 bedroom / 2 bath home featuring a roof deck and solar panels, built in the side yard of the primary dwelling. It is designed to be built using traditional framing methods or can be prefabricated as a modular home. It is electric with enough solar power capacity to meet its entire energy needs over the course of a year. It surpasses California's stringent 2022 Energy Code requirements.